Overview
The New 2006 Roughneck Backup utility for Permanent Backups, has been greatly improved and enhanced.
1. Much better interface.
2. Much easier to make backups to CD and DVD. No formating of CD's required by external programs. Just insert a blank CD and it automatcally makes the backup. This gives you capability for making larger backups.
3. You can store a Backup Profile (with all parameters - drives and locations), makes it easier to repeat the same backup. Once a profile is stored, just load the Profile, and it automatically adjusts all parameters for repeating the backup.
4. It remembers all recent backups made, so you can quickly restore any Recent backup.
5. You have the option to backup sub-directories too.
6. Much easier to make backups to Flash Drives.
The Roughneck Backup and Restore utility is used to make Permanent Backups to Removable media, such as Diskette, CD, or USB removable Flash Drives. It is optimally configured to make it easy to backup Roughneck data files to removable data for safe keeping away from your computer.
The Roughneck Backup Utility consists of two main options. Easy and Advanced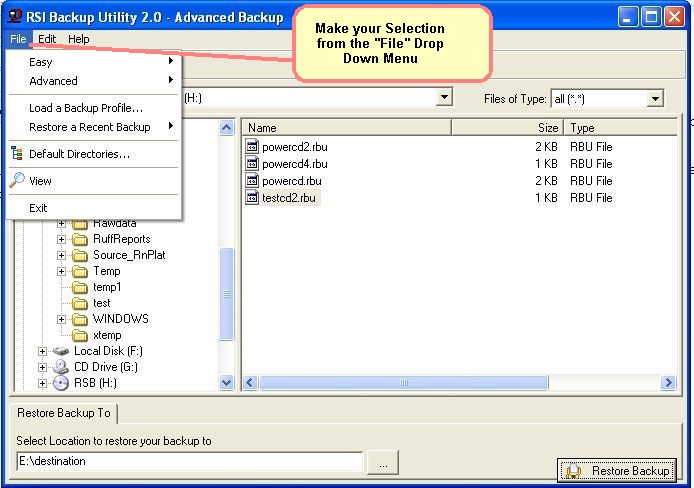 Easy
Easy is designed to be Fast and Simple for users of Roughneck Platinum. It provides you with a Wizard type flow to guide you though the Backup and Restore process.
Advanced
Advanced is designed to give you more flexibility and options with your data. When making a backup, you will select the files you want to backup and where to save them. When restoring a backup, you will select where to restore.
Installation Procedures
To Install Roughneck Backup Utility
Insert the CD in your CD-Rom drive.
If the Installation does not start within a couple of seconds, click Start and choose Run.
When the Dialog appears, type X:\Setup. (Where X is the drive letter to your CD-Rom)
The install program will create an item in the Program Menu called Roughneck Backup Utility 2.0.
To Run the Roughneck Backup Utility
1. Click the Start button
2. Select Programs
3. Select the Roughneck Back Utility 2.0
Roughneck Backup and Restore Utility Copyright © 2006 Roughneck Systems Inc.