A/P Posting Register
Accounts Payable ›› A/P Reports ››
Select Accounts Payable - Reports - Posting Register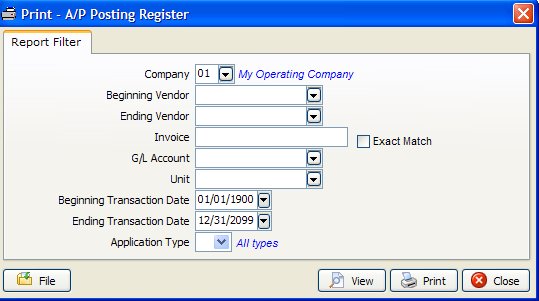 NOTE: Beginning and Ending Tran dates refer to the Transaction Date, not the Invoice Date. The Transaction date is used for the above reports and for Operating Statements. By changing the default transaction date in the Tools program or while entering the A/P Invoice you can enter transactions that you don't want printed on Operating Statements for a particular period.
Enter in your Beginning and Ending Vendor number or leave it blank for all Vendor to print. Normally the Invoice field is left blank. The GL number and Unit number can be left blank as well if you want a more wide open report. Enter in the dates you want to print your report for then you have the option to enter in your Application Type. The Application Type can be left blank if you want your report to show all Invoices, Payment, JE's, etc...
Click View or Print
Check the Report:
The Period Total of this register should always equal the Period Totals in the Trial Balance report for GL Number 21000 - Accounts Payable.
Created with the Personal Edition of HelpNDoc: Free help authoring environment