Company P&L
Financials ››
Select Financials - Company P & L
The Company P & L statement consists of 2 sides: company interest on the left and gross on the right side of the report. Company P & L uses the beginning and ending transaction dates entered for this report. You can print multiple copies by increasing the number of copies on the print box.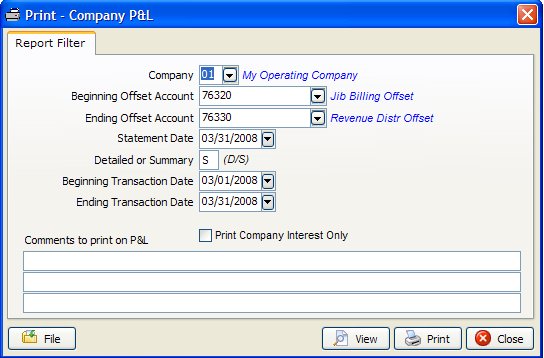 COMPANY INTEREST VALUES
The gross amount of each transaction for a unit and the status code for each transaction for sales (3xxxx), taxes (5xxxx) and billable expenses (71xxx-75xxx) is read from the Transaction file. If the transactions for these general ledger numbers have a unit number, the DOI is checked under that status for any owner number coded 'Y' in the company interest field of the DOI file. The gross amount is multiplied by the status percentage in the DOI file for each transaction to calculate the company interest values for these general ledger numbers. Owners (normally numbers 99990 to 99999) in the DOI file must be coded 'Y' for the company interest field. If no DOI exist for transactions with a unit or no unit number exists for a transaction, 100 percent of the gross amount is used for the company's interest.
Offset accounts (JIB and Revenue Distribution) are not printed on the company interest side, but are printed on the gross side. All other 76xxx-99999 are calculated at 100% on the company and gross side of the P & L. Values for company interest and gross are updated and stored in the Company Chart of Accounts file during period closing.
GROSS PROFIT & LOSS
Read for each transaction in the Transaction file for general ledger numbers, sales (3xxxx), income (4xxxx), taxes (5xxxx), expenses (71xxx to 99999). They are the gross amount of each transaction.
Most operators use only two offset accounts, the JIB Offset and the Revenue Offset account. If you use more than two offset accounts, be sure to keep them in sequence. Normally the beginning offset account is the JIB offset (general ledger number 76320) and the ending offset account is the Revenue Offset (general ledger number 76330). The Transactions by Unit report and Owners Share by Unit report are extremely helpful in checking current month P & L report.
A Company P & L and recap report should be printed periodically to verify all amounts before continuing to the next month.
Recap for Company Interest will check sales, cost of sales and taxes for each unit. The values for these general ledger numbers with a unit are calculated for owners in the DOI file marked "Y" for company interest. 3xxxx, 5xxxx, and 71xxx-75xxx transactions that do not have a unit number will be totaled and listed on the last line of the recap report. General ledger numbers 4xxxx, 76xxx and above are not considered in this report.
This is an example of how to compute P&L net profit(loss). If Company and Gross don't match this should help you towards understanding where you went wrong and what measures to take. Lets assume we entered $3025 Gross revenue, $250 Gross taxes (Cost of Sales) and the company has 10% interest in the well.
To find Company side of Revenue
$3025.00 Gross side of Revenue Sales
- 250.00 Gross side (cost of sales)
---------------
$2775.00
Subtract Revenue disbursed
$2775.00
-2497.50 Gross side (76330- revenue disbursed)
---------------
$ 277.50 (Should be companies portion of revenue)
To verify
$ 302.50 Company side of Revenue Sales
- 25.00 Company side (cost of sales)
--------------
$ 277.50 Matches total from above!!! You are in balance!
How does Derek calculate the MTD, YTD and LTD columns on the P & L report?


MTD
Beginning - Ending transactions dates set by filter
YTD
Beginning date = MM/DD from Fiscal Year Close date in Company Heading file plus one day. YY from Ending Transaction Ending Date = Ending Transaction date set by filter.
LTD
Everything
Example:
Fiscal Year Close for company = 10/18/2011
Beginning Transaction Date set by filter = 04/01/2011
Ending Transaction Date set by filter = 04/30/2011
MTD: Values would be calculated for date range 4/01/2011 - 04/30/2011
YTD: Values for 10/19/2010 - 04/30/2011
LTD: Values for 01/01/0001 - 12/31/9999
Created with the Personal Edition of HelpNDoc: What is a Help Authoring tool?