Register Software
Appendix ››
Register software allows you to register your software upon new installation or when changing computers.
File - Register Software
Step 1 - Get Registration Information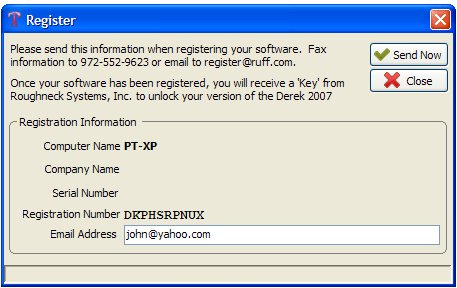 Fill in your e-mail address and click 'Send Now'. The e-mail address you provide will be the address we use to send your KEY back to you. If you do not have internet access, simply write down the Registration Information and fax it to us at 972-552-9623 and make sure you include your fax number so we can fax it back to you.
Note: The Registration Number is case sensitive so, if you are writing it down please print and write it exactly as you see it.
Please make sure that the last time you enter Step 1 is what you send to Roughneck, as the Registration Number changes each time you enter Step 1.
Step 2 - Enter KEY

Once you receive your KEY from Roughneck, you may enter it here to fully register your software.
Note: If you have tried to register multiple times, please contact Roughneck to explain.
Created with the Personal Edition of HelpNDoc: Free PDF documentation generator