Unit Chart of Accounts File
File Maintenance Structures ››
This is the Chart of Accounts file for your units. Each unit must have its own Unit Chart of Accounts to provide the Financial Reports for the Wells. Unit Chart of Accounts only has general ledger numbers 3xxxx (revenue), 5xxxx (tax/deductions) and 71xxx-75xxx (expenses).
TIME SAVER:
If you are setting up your data files for the first time, once you setup your Company Chart of Accounts, you can use the Quick Copy Tool to Copy those Accounts to your Units.
You can also use the Quick Copy Tool to Copy from One Unit to Another Unit. After copying the accounts, you can return here and make any changes, if needed, to individual accounts.
Select File Maintenance - Unit Chart of Accounts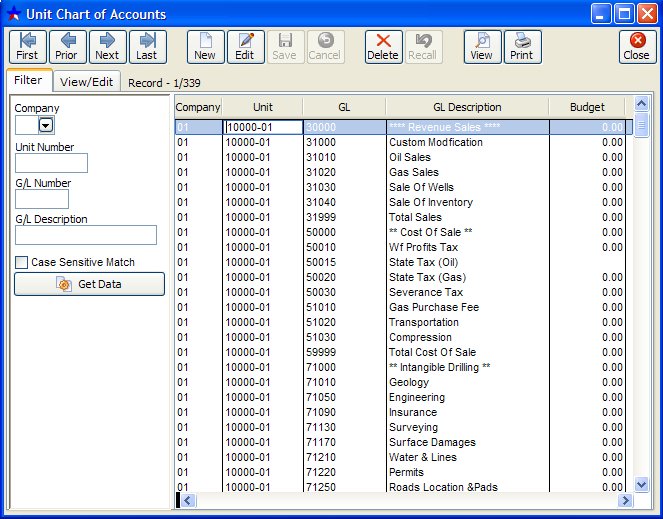 Note: In order to display all records of a file, the Filter conditions must be blank, otherwise it will only list records that were contained in the previous filter.
NOTES ON FIELDS
COMPANY NUMBER: Your company number for this unit.
GENERAL LEDGER NUMBER: This general ledger number MUST exist in the Company Chart of Accounts.
BUDGETED AMOUNT: A budgeted amount, if any for each general ledger number. Usually used for drilling, completion, work over, etc… used in the Well Cost report.
Related Topics
How to Navigate the Master Files ~ Oil & Gas Business for Dummies ~ Accounting for Dummies ~ Quick Copy Tool
Created with the Personal Edition of HelpNDoc: Generate Kindle eBooks with ease