Update for Payroll Checks
Payroll ››
This program updates the employee quarter and year to date values. If you used "Show payroll transaction on Financial Report", it will also post debits and credits to the Transaction file.
Select Payroll - Update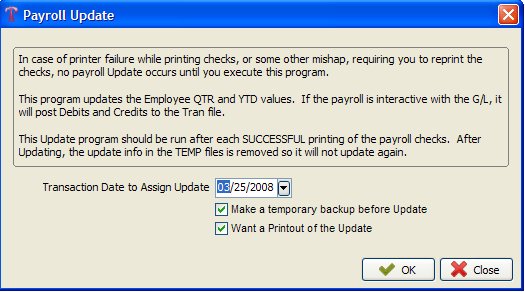 You should make a temporary backup before updating your payroll and print out the update report. It's very easy to Restore this Payroll Backup, should you have a need.
This update program should be run after each successful printing of the Payroll Checks. After updating, the update information in temporary files is removed so it will not update again.
Related Topics
SetUp Features for Payroll ~ How to Change Format of the Checks ~ Checks Used by Derek ~ Employee Master File
Created with the Personal Edition of HelpNDoc: Single source CHM, PDF, DOC and HTML Help creation